Fenty Beauty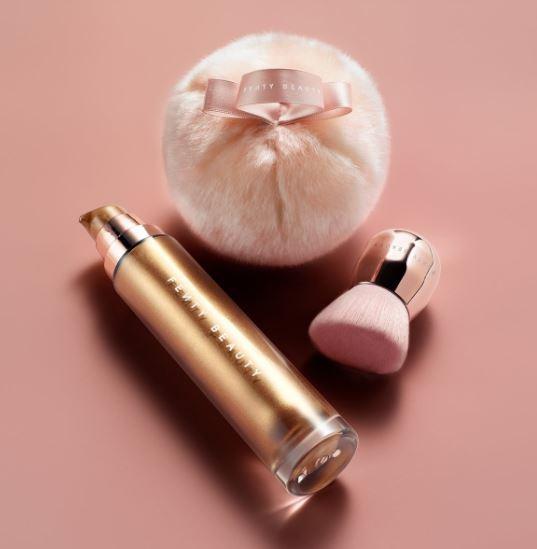 Body Lava and Fairy Bomb
By Julia Loughlin 
Released this month, the new Body Lava and Fairy Bomb were added to Fenty beauty's collection.
Body Lava, which is a body luminizer leaves the skin looking glowy from within. There are two shades — "Who Needs Clothes" which is the lighter color consisting of a peachy-gold shine. The other color "Brown Sugar" is a lustrous bronze.
The Body Lava gives the skin a shimmer finish. Tiny flakes of sparkles pop out when any shade of light hits the skin. The perfect product for those who love to glow.
The Body Lava comes with a hefty price of $59. However the product has 3 oz, which compared to her foundation is 1.08 oz. So in relation the price for this product is reasonable.
To go with this product, Rihanna released a angled kabuki brush. The bristles are a soft pink with synthetic brush hair. The brush is a total of $34, which I personally don't find necessary when using the Body Lava.
The next skin enhancing product that was released was the Fairy Bomb Glittering Pom Pom. This product itself is an innovative way to apply skin shimmer. Consisting of a giant puff containing glitter reflects. There is a greater versatility of this product. You can push the puff into your body for a greater reflection, or softly brush your skin for a luminous glow.
The Fairy Bomb cost $42 and comes in one general compact available for all skin colors to enhance their skins beauty.