Quote of the Week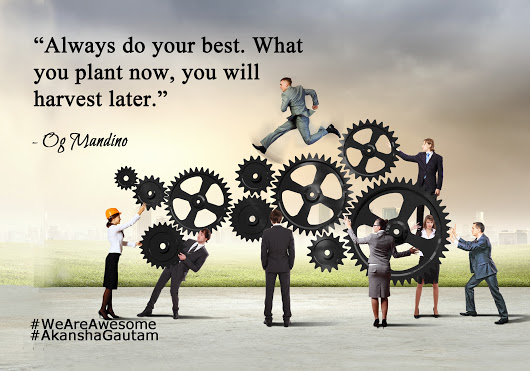 By Stephanie Majinian
"Always do your best. What you plant now, you will harvest later."- Og Mandino
Teens are always talking about how they want the future to come fast, and that they think taking the "baby steps" will not be worth it in the end.
This quote by Og Mandino says differently:
"Always do your best. What you plant now, you will harvest later."
If you try your best and take the baby steps, you can "harvest," or take and see, the end results later on, through patience, care, and perseverance.
I know that man teens feel compelled to move very fast and forward with their lives; I feel the same sometimes. However, I remind myself that not everything is going to come to me as fast and as easy as everything else I have been grown used to feeling.
When you "Google Search" something, Google always tells you that the millions of results have been given to you in less than a second.
It would be nice if things were that fast sometimes, but this quote tells us to use our time wisely and plant the seeds for our future while we have time to do our best.