HARRIET MOVIE REVIEW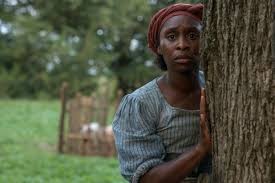 HARRIET MOVIE REVIEW
Once in a while major movie studios will gain the life rights to make films about several historical figures whether it be civil rights activists, musicians or even businessmen and sport icons.
Projects like these tend to fall under the category of being so-called "biopics." Most films of this genre highlight career defining performances: Joaquin Phoenix as Johnny Cash in "Walk the Line," Salma Hayek as Frida Kahlo in "Frida," Denzel Washington as Malcom X.
"Harriet," a film about the historic American hero Harriet Tubman, plays more like a documentary-like film rather than a biopic, with actress Cynthia Erivo delivering a great performance.
Erivo, best known for "Widows," "Bad Times at the El Royale," and the Broadway revival of "The Color Purple," could possibly be the youngest EGOT (Emmy, Grammy, Oscar and Tony) winner ever.
Her singing talent is on full display in "Harriet."
No, it is not a musical, but Erivo's hair-raising vocals are put to great effect throughout the film as it is used mainly to appeal to the audience's emotions and succeeds in doing so.
Erivo's portrayal of the famed historical figure, unlike Rami Malek's depiction of Freddie Mercury's performance at Live Aid in "Bohemian Rhapsody," demonstrates the leadership, courage and ambition we've come to learn about Tubman over the course of history.
It is hard to imagine history teachers not showing this film for learning purposes in the same way many biology teachers show "Gattaca" or in the same way English teachers show Hollywood depictions of Shakespeare classics.
Much of that credit goes to the director and writer.
Screenwriter Gregory Allen Howard and director Kasi Lemmons focused on every aspect of Tubman's devastating life and found a way to make it interesting.
So often films about other historical figures rely too much on stating the facts about the person's life that they forget that there is a narrative to be told; making a film almost documentary-like.
 It seems in the rise of the female empowerment movement, one wouldn't imagine Erivo's portrayal of Tubman to join the leadership rankings of popular female film icons like Captain Marvel, Linda Hamilton, Anna and Elsa (even if animated), and etc.
But she does.
Lemmons and Erivo's collaboration for creating a strong female lead is very prominent throughout.
It may seem like separation and unity juxtapose each other, but in "Harriet" they become two of the biggest themes in Tubman's story.
After the film, one is with the feeling of "I can do absolutely anything," a sense of empowerment.
"Harriet" is one of the best depictions of this chapter in America's history.
RATING-
4/5
Director- Kasi Lemmons
Cast- Cynthia Erivo, Janelle Monáe, Leslie Odom Jr., Joe Alwyn
Sebastian Guzman