How Do You Wear Your Chains?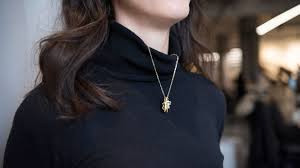 Chain Reaction
How do you wear your chains?
Many people love to simply wear a plain chain and charm around the neck; others like to make chains their own style.
Credit: HuffPost
For example, men like to wear a gold chain either plain or covered in diamonds paired with any shirt of their choice.
This style came about due to rappers wearing them as a sign of wealth. The more chains you have, the more money you have.
Credit: Stylecaster
 As seen above, chains can be layered.
Credit: Pinterest
However, chains are no longer only jewelry but double as accessories.
They can be worn on pants called "wallet chains" or as belts.
This style first was seen in the '90s as bikers would clip a chain around their wallet before placing it in their front pocket. This was to match their fashion and prevent them from losing their wallets.
Credit: Pinterest
    Why anyone would want to wear chains beats me. The point is that they are worn in various ways to show one's unique style.
Zoë Romano