STREAM THE FUTURE OF THE ENTERTAINMENT INDUSTRY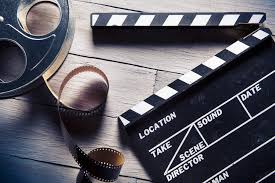 STREAM THE FUTURE OF THE ENTERTAINMENT INDUSTRY
Before you could have experienced singing Trolls in theaters, the universe
simultaneously dropped the biggest middle finger to the film industry and the world: COVID-
19.
As the world grapples with the new reality amid the global pandemic—the real-life
"Contagion"—to prevent the virus from spreading, the stay-at-home order would cause all retail
stores, restaurants, gyms, bars, most places of worship, and dental facilities to shut down.
This also applies to the entertainment industry's finest creation: movie theaters.
The film industry that once generated $35.3 billion into the nation's economy last year is
slowly losing millions a day and billions per week.
Although "Americans go to about 5 movies on average [a] year," according to Marketing
Charts, the industry is losing billions due to movie theater closures, prompting film studios to
cancel promotional campaigns, reimburse ticket sales, halt all current film productions, and to
delay film release date or move them to straight-to-digital and streaming services.
Studios have relied heavily on streaming services as the new backbone of the
entertainment industry to go full steam ahead on entertaining the billions stuck at home globally.
But, as great as that might be for an average Joe, who will binge-watch "Tiger King" and
"The Office" for the zillionth time, the toll it is taking on studios and stock shareholders is
massive and unprecedented.
Disney execs have begun payment cuts, shutting down their cruise lines and theme parks
worldwide indefinitely, as well as furloughing workers starting April 19th.
Some Disney film release dates have been pushed back months and even a full year:
"Mulan" (July 24), "Black Widow" (Nov. 6), "Artemis Fowl" (moved to DisneyPlus), "Jungle
Cruise" (July 30, 2021), and "Untitled Indiana Jones 5" (July 29, 2022)
As most of their newly acquired Fox properties have no new release dates, Marvel
Studios have also begun delaying their releases.
And that is the least of the mouse house's worries.
The DisneyPlus streaming service will not be profitable for the company until 2024
according to Variety and the company is still in debt after the Disney/Fox merger that costs $71.3
billion.
Sony has delayed its summer blockbuster slate by a full year. The films include Tom
Hanks' "Greyhound" (undated), "Ghostbusters: Afterlife" (Mar. 5, 2021), "Uncharted" live-
action film (Oct. 8, 2021), "Morbius" (Mar. 19, 2021),
Sony hopes to return mid-August with films like "Escape Room 2" and "Monster
Hunter" hitting screens; meanwhile, Adam Aron, "the CEO of the largest theater chain in
America [AMC] is hoping to have locations open by mid-June," according to CNBC.
Warner Bros. will either hit the jackpot or beat a dead horse with the release of HBO
MAX in May which will have close to zero new content due to the coronavirus.
The studio has also delayed DC's "Wonder Woman 1984" (Aug. 14, 2020), "Scoob!"
(undated), and "In The Heights" (undated).
Paramount will release "Lovebirds" to Netflix, "A Quiet Place: Part II" (Sept. 4), 007's
"No Time To Die" (Nov. 25), and "Top Gun: Maverick" (Dec. 23).
Universal will be the first studio to make streaming a theatrical experience with "Trolls:
World Tour" available for digital rental in April. Additionally, the company shut down its theme
parks worldwide, as well.
The studio delayed "Fast and Furious 9" (April 2, 2021), "Minions: Rise of Gru" (July 2,
2021), "Sing 2" (Dec. 22, 2021), and "Wicked" (undated).
Studio by studio, the domino effect has halted theatrical experiences significantly,
allowing streaming services such as Netflix to bloom.
The world of film entertainment will leave dry spots in the industry and it is expected,
following the new release dates, that normality in the film industry will return in August or
September.
It could be a gradual process before movie theater seats fill up. The hectic reality will
deter audiences' away from theaters for a long time. People will be hesitant. After finding jobs
and getting kids situated in school again, it is unlikely many people have blockbuster motion
pictures in mind.
Amid the coronavirus, it is possible to see theaters such as AMC file for bankruptcy due
to the debt from their theater expansion and for Disney to hit the fan as they try to cope with not
having the money to sustain a healthy status.
And yes, Disney. The studio that made $11.05 billion in 2019, according to Statista.com.
Unlike Warner Bros. and Universal, Disney does not have parent companies who can sustain
them.
Only time will tell what impact the coronavirus will have on the film industry.
Overall, as the world of entertainment in the realm of movie theaters dies down
indefinitely, the world of streaming is booming with signs leading to it being the future of
entertainment.
Sebastian Guzman