Elementary schools allowed to reopen
LA County Department of Health gives permission for elementary schools to reopen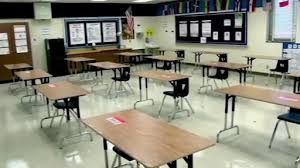 The Los Angeles County Department of Health on Monday gave permission for elementary schools to reopen. LA County has seen a drastic decline in the CoronaVirus case numbers reaching its threshold.
Los Angeles County schools, which include all of the schools in the Glendale Unified School District, including the 21 elementary schools, received an email regarding this decision and the announcement, meaning dozens of elementary schools can open up again as early as this week. 
With the cases reaching a rate of 25 per 100,000, the California Public Health Department has clarified that they "have implemented a full range of safety measures to permit a safe reopening."
Gayaneh Shahbazian, a local healthcare professional and a mother to two elementary school students in first and third grade, believed that it would be a mistake to send elementary students back to school this semester. 
"Children already have a hard time focusing in class," Shahbazian said. "The mask is now an added distraction to their thinking and children have less of a tolerance for keeping their masks on." 
The Los Angeles Unified School district, being the nation's second largest public school district, are going to be adding school-based vaccination sites operated by school nurses and licensed healthcare professionals. 
However, there is a controversy on whether teachers and staff should receive the vaccine to be able to commence with the schools reopening. 
"I'm a strong advocate of teachers receiving their vaccine, but we don't believe it's a prerequisite for schools to reopen," said CDC Director Dr. Rochelle Walensky. Twenty-eight states, including California, have decided to allow educators to get the Covid-19 vaccine. 
"In my opinion, elementary school should start reopening for in person learning, given that they are following the safety CDC guidelines," said Polien Avanes, a second grade teacher at Edison Elementary school. 
Glendale Teachers Association President Taline Arsenian said in a statement that "The Glendale Teachers Association acknowledges the importance of returning students to classrooms, but doing so now — without adequate teacher training, without transparent information being shared with families about how different in-person instruction will look vs. pre pandemic classroom instructions, and without the collaboration with its teachers in the process –will create instability and uncertainty without providing the benefits that could be achieved through thoughtful collaboration between GUSD and its educators." 
With that said, Arsenian also mentioned that other schools had either started hybrid learning since the fall or they started recently, but in GUSD none of this has yet happened.