Hoover star out for the year
Torres, a junior, told he can't play football anymore because of a concussion he suffered on September 10.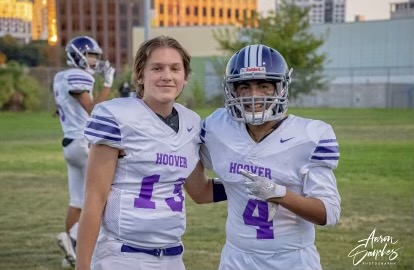 Andrew Torres, Hoover's star running back, suffered a concussion on September 10 that has ended his football career. Torres was hit helmet-to-helmet during a game against Roybal High.
Torres found out how severe his concussion was when he woke up a few days after the game with a severe nosebleed. He quickly rushed to the hospital, where a doctor told him that he is unable to play football anymore, since his condition could worsen. 
He had difficulty accepting the news, however it would hit him later that day that he would never play football again. He had the feeling that he could not do anything about it, and so he had to accept it.
Torres felt sad that he would not be able to play football and be a part of his team. 
"I put in blood, sweat, and tears," Torres said. "The times with my friends and the three years I spent are all taken away."
Torres wants to tell his team that although he will not be able to be on the field and be able to experience all of the hard work they put in, he will be on the sideline cheering them on. Much like Hoover's saying of Ohana, Torres said he wants to cheer on his family. 
He finished his varsity career with eight touchdowns.
Ethan Davis, Hoover's star quarterback, felt deeply saddened by the news and said that Torres' absence affected the entire team.
"Without Andrew, the team loses one of its best players," Davis said, "It drains us mentally, but it's nothing that we can't face. We're playing for him."