Bike lanes coming to Brand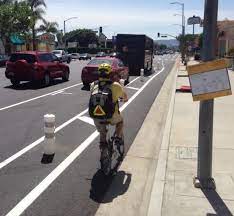 The Glendale City Council voted unanimously on Tuesday to implement a quick build project on North Brand Boulevard, between Mountain and Glenoaks.
The project will temporarily add bike lanes to either side of the street, with planters protecting them. The street will be reduced from 2 lanes on each side to 1, and the number of parking stalls will be increased from 227 to 234. This plan will retain the center left turn lane present on the street. This would be the first protected bike lane that the city would ever have.
The project will begin construction in the spring. Once it is done, it will be in place for six months, before the city decides whether or not they want to keep it.
Six different plans were presented at the meeting, although it was decided that plan 1A would be best. Some plans involved decreasing the number of parking stalls, and some would remove the center left turn lane.
When the plans were first pitched, the idea was met with some criticism. City Council Member Ara Najarian argued that the removal of a lane would create a traffic bottleneck, but said "I don't want to die on this hill."
Before the project was pitched to City Hall, a survey was put out to see how the community would respond to the project. At the time of the meeting, 140 people had filled out the survey, with 70% being in favor of plan 1A. Najarian argued that the only people who were informed about the survey were "bike people."
Alec Bartrosouf, Member of the City of Glendale Sustainability Commission, stated "rather than characterizing people as 'bicyclists', remember that people in cars are going over 30 [miles per hour] when it's the speed limit."
Many people in favor of the project see it as a matter of safety. safety for bicyclists, differently abled people, and pedestrians. A similar project is currently being considered for La Crescenta Avenue. If this one goes well, it could impact the infrastructure of Glendale and surrounding areas for generations to come.