The Golden Boy Strikes Back
Hoover grad Edmen Shahbazyan snaps three-fight losing streak with TKO at UFC 282.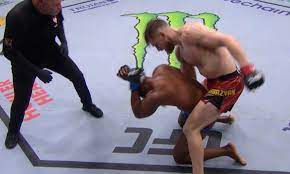 Hoover High graduate Edmen Shahbazyan, aka "The Golden Boy," shocked all of UFC on Saturday night.
Shahbazyan scored an unimaginable technical knockout against Dalcha Lungiambula at the 4:42 mark of the second round in their middleweight bout at T-Mobile Arena in Las Vegas.
This was Shahbazyan's first victory in over three years and first since losing three consecutive fights.
Shahbazyan was able to manage a perfect offensive strategy, and made an opening opportunity for a knockout, by repeatedly attacking with his knees, then attacking with his fists when his guard was down. At that same instant, Shahbazyan took Lungiambula by surprise, and sent him back home with a TKO.
Losing three consecutive fights dropped Shahbazian ranking in the division to a dangerously low extent, with the possibility of not being able to compete in the UFC. Although, with today's miraculous performance, he proved that he still belongs in UFC to continue his journey and build his way up in the divisions.
In the end, when Joe Rogen interviewed Shabazyan, the former Tornado said: "I am so glad I took the time to improve, move to Vegas, I guess I'm Vegas Edmen now!".
"This is just the start, I'll keep climbing, getting better and this is just the start for sure."