Chalking tradition continues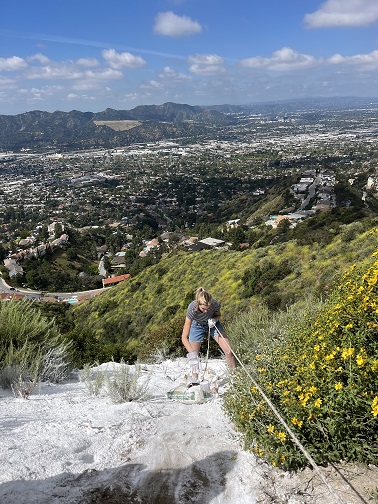 An annual tradition that started more than 50 years ago continued on Sunday. 
What is the tradition?
The chalking of the big H on the hill near Hoover High School.
Four students, an administrator, a teacher and five-year-old, chalked the H on Sunday like students do each year around this time of year, about a month before graduation.
The students were ASB president Amanda Bystrom, senior class president Lydia Araujo, juniors Ciera Amirian and Eveta Balasanyan, assistant principal Avik Yahiayan, ASB Advisor Edgar Stepanyan and his son, Micah.
"Chalking has been something that I've been looking forward to since my freshman year," Bystrom said. I remember the seniors talking so much about it when I was a freshman and thinking how fun and exciting it sounded. 
It's one of the many senior traditions I've been looking forward to and am so thankful to have had the opportunity to finally do it. It's the first senior event of the season and I am so excited for the rest."
The students and staff needed 27 bags of chalk for the H. They met at the bottom of the hill that they needed to walk up at 9 a.m. and trekked the 10-minute journey to the H.
"It was very exciting as a senior to be able to participate in chalking as all students see it everyday," Araujo said.
There, they needed to slide down another 20 feet to get to the actual H.
The entire process took about 90 minutes.
"This is the second time that my son came with us, and we had a blast," Stepanyan said. "Micah has been talking about this for the last few months. Each time we drive by and see it, he always asks me, 'when are we going to chalk the H?' After we did it, he could not wait to do it again."