Huber to retire
Drama teacher to focus on acting after teaching at Hoover for 17 years.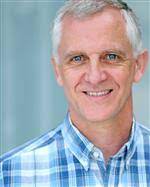 Dave Huber, a drama teacher at Hoover for the last 17 years, will retire at the end of the school year. Huber is seeking more opportunities outside of teaching.
"I want to act, I want to direct, and I want to write my own projects," he said.
Huber is considering becoming a full-time actor. Traveling is also another objective that Huber will consider after he steps away from teaching.
"I love teaching, I still love it," he said. "I'm not leaving because I hate my kids or hate teaching, I'm leaving because it takes a lot of time, work, and stress."
His best encounters at Hoover were "when students begin to figure out that they are good at being creative, when they have never had this creativity before and all of a sudden they realize that they are good at this, I love that moment."
Huber's decision has impacted his students as he always had a special place for his students at Hoover High.
"I always looked forward to Mr. Huber's class, it's sad to hear he's not going to be here next year," said drama student Lucas Pugliese.