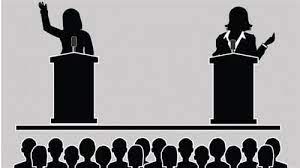 The Speech and Debate Club is back at Hoover High.
Natalia Khodaverdi and Christine Lambaryan gathered together to start the debate club with the help of Hoover teacher Kirk Sharma.
"Really motivated students who have started the Debate Club, it's their club, I'm just wanting to help out," smiled Sharma. "Having said that I've always been really interested in history in current events, political science, public speaking, in debate it's really up my alley so it'll be a fun and interesting challenge to help to try coach and allow my students to succeed competitively in speech and debate."
Hoover also has a mock trial, however not a debate club, which was one of the things that inspired Khodaverdi and Lambaryan.
"I think it's the fact that we have a mock trial but not a debate team and although they're not the same thing it's unfair that so many other schools get to have a debate team and Hoover doesn't so I think that just motivated us to start one as well," Khodaverdi stated.
The main part of this club is in fact not winning a debate but argumentation with persuasion, how to get something to work in your favor, which will be one of the skills students will strive for and learn in this club.
"I think that the most important part of debate is the fact that it's not only do you have to argue your side, it's that you learn how to argue your side," Khodaverdi beamed. "You learn effective ways to come to convince, persuade people, and you don't get to pick your side so there's no way that you're bias it's you get assigned to the side and you have to learn how to argue it so in debate its not even based off of if you win it's based off of how well you argued."
Through debate there are different topics and categories where everyone can have a place to share their voice no matter what their topic is, including learning how to use words in order to send a message.
"I encourage people to join the debate because not only can you debate topics that interest you and you get to learn about topics," said Lambaryan "But you really get a voice through it, you get to empower yourself and empower others through your voice, and it just makes sure that you're heard and seen in different topics."
Khodaverdi and Lambaryan hope that the debate club continues on after they have graduated.
"Well, I hope that as starting this club, in the future years, [next year] when we're seniors and we leave, I really hope that people will continue it on," informed Lambaryan "Especially the younger grades, just continue to grow the club, and that it doesn't just stop from when we leave, that it continues going on, building a legacy, and making the school proud."