FIFA World Cup 2018 Rankings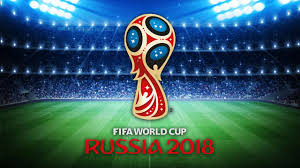 By Andre Sarkissian
The FIFA World Cup.  Soccer's grand stage.  The premier sporting event that draws millions of fans to the host country to watch games at majestic stadiums, and billions more to their televisions to witness the action-packed quadrennial tournament.
However, as with most international sports competitions, the 32 teams that head to the World Cup every four years aren't selected at random.  Countries have to fight with grit and heart to get out of their qualifying groups and book their spot.
In summer 2018, the tournament will be held in Russia amidst corruption scandals and international sanctions against the former Soviet republic.  In 2015, officials at FIFA, the governing body of the sport worldwide, were found to have laundered money in exchange for votes towards selecting Russia and 2022 hosts Qatar as the stage for the world's most watched sport festival.  
Even through all the corruption, Russia was nevertheless allowed to keep hosting rights.  There will be 12 venues in 11 host cities, with the grand finale, the World Cup Final, being held on 15 July at the 81,000-capacity Luzhniki Stadium in Russia's capital city, Moscow.
Out of the 32 teams who will be heading to the world's largest country for the tournament, 23 teams have qualified at the time of this article.  Among the regular nations who will make an appearance include our neighbors Mexico, European powerhouses Germany, England, and Spain, and Asian greats Japan, South Korea, and Iran.  Not to mention African giants Nigeria and probably the greatest national team of all time in terms of history, Brazil, who with five World Cup trophies, have won more than any country.  As always, the host nation, which is Russia in this case, earns automatic qualification.
However, surprises arose this year, with nations such as Saudi Arabia and Poland both making their first appearance since 2006, a twelve-year absence.  Serbia return after an eight-year absence, and Egypt, statistically the best team in Africa's history, have only appeared two previous times, the most recent time in 1990 when the Cup was held in Italy.  Not to mention Panama, shock qualifiers in the North American zone after one particular team failed to qualify.  But we'll get to that later.  It's too shocking.
In South America, usual teams such as Uruguay and Argentina qualified, but they didn't have it easy, especially Argentina, who scraped a 3-1 win over Ecuador to get in at 4th place out of 10 teams.  Colombia, who were out of the Cup until 2014, have also risen exponentially in terms of team quality and are expected to go far this year.
But probably the biggest surprise qualifier came in Iceland, with a population of 300,000, just more than Glendale.  The team first made international sporting headlines when they qualified for the 2016 European Championship and reached the quarterfinals after a valiant performance against superpower England, when they won 2-1 at the Allianz Riviera stadium in Nice, France.  They reached the World Cup for the first time in their history after topping their qualification group, winning seven games out of ten.  They are officially the smallest nation to go to the tournament.
Now for the teams who didn't qualify.  The United States (that team I was talking about earlier) failed to book a spot after a horrendous 2-1 loss against Trinidad and Tobago in the last round of the Hexagon, the final stage of North American, Central American, and Caribbean qualifying.  The States won three times and drew three times, but a loss against Mexico and Trinidad each, as well as two losses against Costa Rica, saw them exit early, missing their first World Cup since 1986, a whopping 32 years.  Former American players, coaches, and representatives for the sport took to harsh measures to talk about the team, including the popular SportsCenter rant by former player Taylor Twellman, who was capped 30 times for the U.S. national team and played 169 games for MLS club New England Revolution.   
Another powerhouse who missed out on going to Russia was Chile, who are currently ranked 9th in the FIFA World Rankings, down from a nation-high 3rd that they recorded in April-May 2016.  They were tied with Peru, who went on to the inter-confederation playoffs against New Zealand, and one point off Argentina, who earned automatic qualification in a clutch manner (the 3-1 game against Ecuador).  Chile defeated mighty Brazil, who were the first team to qualify for the World Cup aside from hosts Russia, but slip-ups against Argentina, Paraguay, Bolivia, and Brazil in their second match, amounted to eight losses, eliminating La Roja (The Red) from contention for the first time since 2006.  
This World Cup will no doubt be one to watch, with great players, both old and young, as well as underdogs trying to go above their limits and perform well on the world stage.  Who do YOU think will win the World Cup?  Give us your predictions @websitenamehere   
Inter-confederation playoffs:
Honduras v Australia (1st leg-10 November 2017)
New Zealand v Peru (1st leg-11 November 2017)
Australia v Honduras AND Peru v New Zealand (2nd leg-15 November 2017)