GUSD Campuses To Remain Closed in Fall Amid COVID-19 Pandemic
Glendale Unified School District campuses will move remotely for the fall semester until further notice amid surges of new COVID-19 cases in the Greater Los Angeles area. 
The decision was made at a district board meeting held on July 14.
There is no clear consensus on how long remote learning will be in effect, but it was confirmed that a hybrid model is underway with a possible reopening date announcement coming later this fall.
"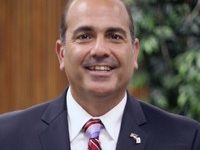 "Right now I could not be more supportive of a remote learning program"

— Greg Krikorian

," said GUSD board member Greg Krikorian.

As GUSD plans to commence the 2020-2021 school year next month, the COVID-19 pandemic has set unprecedented challenges for district officials, ultimately restoring them back to temporary remote learning. 

Teachers and students alike are demanding an appropriate return to campuses where safety is the number one priority along with creating a successful academic environment.

"Remote learning presents new challenges for our teachers and students," said Hoover teacher Anthony Peterson. "Together [we] can engage in a really great positive learning experience for our students as we move through this pandemic."

This district meeting came days after LAUSD Superintendent Austin Beutner announced Monday that students will not be able to return to school for on-campus instruction. Instead, beginning on August 18, classes will resume remotely for LAUSD students. 

Glendale district members came to their decisions to move virtually with new state guidelines mandated by Gov. Gavin Newsom, official local health recommendations and stakeholder feedback in mind.

Students, parents, faculty members and residents of the Glendale region expressed their opinions on the reopening of schools for the fall semester of the 2020-2021 school year at a virtual return-to-school town hall meeting held on July 8. 

Guest speakers in the town hall meeting held last week, featuring Superintendent Vivian Ekchian, Board of Education President Dr. Armina Gharpetian, Vice President Shant Sahakian, and Board of Education members Nayiri Nahabedian and Krikorian, were adamant about their preferences. As many students and teachers felt it was unsafe to return to campuses in August, others disagreed. 

"In the current state of the city, I prefer a full remote learning option," said ASB senior president Maria Akhverdyan. "I believe that GUSD should implement a strict protocol for all campuses to uphold." 

As a recommendation, Akhverdyan continued by stating that temperature checks upon student and faculty arrival along with readily available sanitizing stations would be preferable for a safe on-campus return.

In addition to Wednesday's ruling, GUSD provided updated data to the public from recent return-to-school surveys given to parents, students and district employees. 

Three option plans for the reopening of campuses were available for respondents on the survey. 

Option plans included: full-remote instruction (virtual teaching sessions on Google Classroom and Zoom), a hybrid model; a combination of both virtual and in-person learning, and lastly, a full on-campus instruction system which would adhere to the new restrictions from local government.

Data results shown were results collected as of July 10th. 

Out of the 11,379 respondents from the parent/guardian fall school reopening surveys, in which all district schools were represented, about 28.5% of respondents preferred full remote learning for the semester, meanwhile 48.6% vowed for on-campus instruction and 22.9% were undecided. 

Results of whether teachers and staff felt comfortable with reopening school sites showed that 36.6% of certificated staff and 63.9% of classified staff agreed on returning to work safely.

"I like to believe that remote learning can work efficiently if done correctly," said Kiana Avedisian, a junior at Hoover. "If teachers utilize the time they have at home and schedule Zoom calls or pre-record their lessons, students can get the most out of their learning while at home."

Ekchian confirmed that child care and food services for parents, students and staff would be considered when reopening campuses later this year along with masks, temperature checks and sanitizing stations being readily available throughout the facilities.

She later confirmed that the class of 2021 will not adhere to an alphabetical return-to-school schedule being constructed for lower grades in order to maintain social distancing at schools if their proposed hybrid model comes to fruition. 

All GUSD campuses will commence remote learning on Wednesday, August 19th with plans of on-campus learning underway.