Back to School, Virtually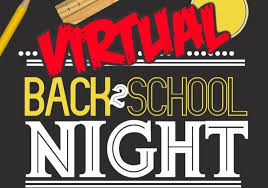 On the hot late night of September 2nd last year, parents came piling into campus and crowded the hallways trying to get to their children's classes. Instead, this year, parents were able to attend Back to School Night on Wednesday night from the comfort of their own homes on zoom calls while dust bunnies pile up in Hoover's halls.
With COVID-19 cases running rampant in Los Angeles County, Hoover's students are incapable of returning to campus. Students are able to learn and communicate with their classmates and teachers safely at home during virtual classes. That caused Back to School Night to be hosted online, with teachers hosting 10-minute class sessions and parents joining in on Zoom.
"This year's Back to School Night was nice because you can get to all of your classes faster and way easier," said Michelle Pimenta, mother to Sara and Breann. "You don't have to fight to get a seat in the classroom and doing everything online is very convenient."
Back to School Night was different for teachers, as well.
"Back to School Night was interesting this year," said Hoover teacher Robbie Myles. "Being done as a zoom meeting and presentation allowed for many parents and students to attend that in the past would not have been able to. I miss getting to see and meet parents in person, but it was a wonderful alternative for many families."
It was the parents' turn to attend classes this year even though it was different. Instead of crowded hallways filled with parents rushing to get to their kids' classes on time, parents worried about how to join zoom calls and if their microphone was on or not.
Zareh Zakarian, father to Kayla and Andrea, had mixed feelings about Virtual Back to School Night.
"It was good," Zakarian said. "The teachers did a good job of relaying their class information to the parents, but I prefer it to be in person because it's more personal that way and you can get to meet the teacher and shake hands."
Back to School Night marks one of the beginnings of the school year. Parents get to know what it is like on campus in their kids' shoes and also get to know the school staff better. Teachers explain what the goals are for the class and the students individually with the parents if they have any questions. They all just did it a bit differently this year.