Maywood Races Past Hoover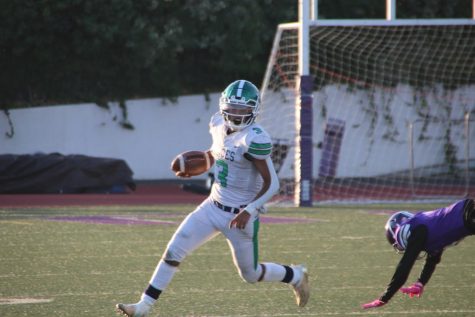 You can hear nothing but sheer silence during the football game between the Hoover Tornados and Maywood Wolf Packs on Friday as Hoover suffered its second loss this season.
It was a warm day when the football game started. The sun was beaming down on the field, players fighting each other for the ball, Hoover on one end, Maywood on the other.
By the end, all the fighting was for naught, as the Maywood Wolf Packs took down Hoover, 50-21.
What was a bright and sunny day slowly turned into a cold and dark harshness as the final seconds counted down.
Hoover with all their might fought valiantly against the opposing team, but their injuries got to the better of them.
Hoover's quarterback, Ethan Davis, explained why they lost.
"It came down to our injuries," Davis said.
"We got hurt, we had to play through it because we didn't have enough depth. We're
still building, give it time and we'll be doing good. "Hopefully we can come back from this."
    Sportsmanship is important to any game, it is how games can be played, which is why the Tornados showed good manners to their opponents in their games, even in their loss.
"Shout out to the players that stepped up, they did really well, and I give props to them," Davis says.
Mistakes will always happen and seeing them is the first step to growth and perfection.
    Daniel Baneham, a sophomore at Hoover and a football player for the Hoover Tornados, wanted to give out his two cents on the loss.
"During the first half we played lazy on offense and defense," Baneham says. "Our heads were down and we were trying to pick them back up, and it didn't go well.".