Two staff members receive vaccine exemption
Hoover's Amy Estep and Maria Gharibian granted temporary COVID-19 exemption.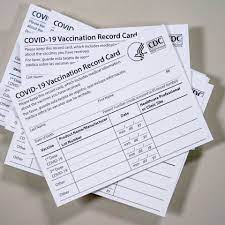 Two staff members at Hoover High School have received an exemption for the COVID-19 vaccine.
Choir teacher Amy Estep and classified staff member Maria Gharibian were both recently given notice that they were exempt from the vaccine in a letter from the Glendale Unified School District.
¨I´ve always been a big believer in personal freedom," Estep said. "I think it is something that we take for granted in this country. There was a gut feeling that it just wasn't for me and I just said 'no thank you.'¨
When asked how she felt after she was granted the vaccine exemption she said, ¨I felt a lot of relief it was nice to know that you know I was still able to make choices about my personal body and my personal beliefs.
"I have felt judged in the sense that I don't keep it a secret that I haven't been vaccinated. I have gotten a few sideways glances like no one has outright said anything but I know there's a lot of people that outright disagree."
When asked if she was scared coming on campus knowing she is more vulnerable to Covid she said, "I´m not scared because number one I've already had Covid so I already have some antibodies built up which is nice."
She would later go on to clarify that she remains respectful to others and does follow the other rules to keep everyone safe. She said she doesn't want to come off as disrespectful to those who firmly believe in getting the vaccine. She would wrap up the interview by saying that it's her choice and since she follows the Christian faith, she believes in a higher power and says that everything will work out in the end.  
Gharibian also shared her feelings about getting the exemption.
"I feel lucky to work in a district that cares about people and respects their religious beliefs," Gharibian said.
The exemption that they were given is only temporary and will end on June 30, 2022. They will have to be tested every week and submit their results.