Witt resigns as polo coach
Head coach of Hoover boys' program leaves deck to spend more time with family.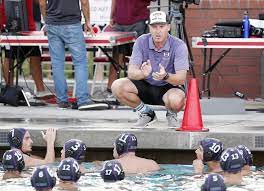 Kevin Witt called it quits as the Hoover boys' water polo team on Thursday, ending a 10-year coaching reign at the most successful athletic program at the school. 
Witt said he began debating the idea of resigning since his wife had the couple's second child, Teagan, who is five months old. 
"I have two children at home and I'm looking forward to spending time with them," said Witt, who also has a two-year-old son, Jackson. ¨Whenever you're leaving coaching, there's always kids you want to stick around for and see graduate. Right now my rosters are full of them. All of my kids are great kids. It's really hard leaving them."
Witt will remain as the school's swim coach.
Witt reminisced on his 10 years at Hoover and the memories along the path. In 2019, Hoover won its second consecutive Pacific League championship and third league title in the previous four years. In 2011, the Tornado boys' water polo team made it to the CIF semifinals, which was the last time Hoover made it that deep into the postseason in any sport. 
Witt enjoyed the impact he made on the players.
¨Every single year in June, the seniors come through the program for the four years and graduate," he said. "You realize their time in high school and hope you made an impact. You see they become young men and that is the best memory."
The lessons taught, and the fun he had in his time in sports all contributed to his decision in coaching in the first place. 
Hoover's Edward Sakellariou, a water polo player, said Witt was more than a coach.
"He was more than a coach, he brought all of us together like one big family," Sakellariou said.