Anastasia Beverly Hills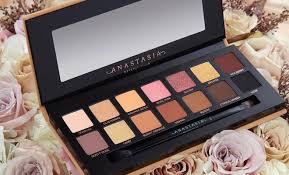 Soft Glam
By Julia Loughlin 
The eyeshadow palette that launched earlier this year was the Anastasia "Soft Glam."This palette is similar in formula to the brands previous palette "Modern Renaissance."The shadows are soft and buttery with lots of pigment. There are 14 shadows that consist of mattes, shimmer, with colors raging between pale to warm tones. Also with bronze metallics and iridescents finishes.

The palette cost $42 and is sold at multiple beauty  stores. The price for this palette is expensive, but I recommend to all—beauty gurus and first time makeup users. The palette is very diverse making it ideal for a built up nighttime look or a wearable soft flush for daytime wear. The packaging for the palette itself is a nice creamish-yellow color with a velvet touch, similar to the previous palettes.
The shadows last all day and keep the color—a long lasting look. The buttery pigment allows for all day wear.
The colors of this palette compared to ABH's previous shadows, gives shades in one palette perfect for the everyday makeup wearer. Along with the palette comes a dual ended brush, that is great quality. One side is fluffy, perfect for blending out the crease and the other is flat for packing on shadows.

The name 'Soft Glam' is true to the palette. A light everyday look anyone can achieve. If you were to purchase any of the ABH eyeshadow palettes the 'Soft Glam' is the one to go for its versatility and wonderful quality.