Hoover Sweeps Korean Writing Competition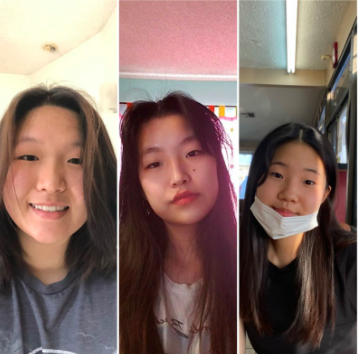 Hoover students Joyce Kwon, Ashley Chang, and Yunji Lee were announced as the winners of the Korean Class Scholarship Selection Contest on Monday.
After battling the pandemic and procrastination, the hard work of these three students paid off when they placed in the first-, second-, and third-place brackets. The trio won a Summer Program in Korea, the King Sejong Award, and Hunminjeongeum Award.
Kwon, a sophomore at Hoover and one of the top 10 finalists, won a Summer Program in Korea, hosted by the Korean Education Center in Los Angeles. As excited as she was for receiving the trip, Kwon felt worried about the possible cancellation of the trip due to COVID-19 restrictions. 
"Lucky you, I don't get anything for now," said Kwon, towards the other two winners. 
The competition asked applicants to write about either the global impact of Korean culture or reasons why Korean culture may have become as widespread as it is now. Kwon chose to write about the cultural impact of Korean music. "I first wrote about the history of Korean music and then I spoke about the cultural influence of Korean music," Kwon said. 
Chang, a sophomore at Hoover and one of the second-place winners, received the King Sejong Award and a $200 scholarship. The award is named after King Sejong, who created the Korean writing system in 1443. 
"My essay was mostly based on my interactions with non-Korean students who talked about Korean culture," Chang said. 
Chang, along with Kwon, also admitted — most likely to the disappointment of their teacher Jessie Lim — that they had done the essay the day before it was due.
Lee, a sophomore at Hoover and one of the third-place winners, received the Hunminjeongeum Award and a $100 scholarship. The award was named after the Hunminjeongeum, which was the name of the document King Sejong described and published the Korean writing system. Lee wrote about the global cultural influence Korea has seen through food and music, especially with groups like BTS and Blackpink. 
"I actually was…not planning on submitting it to the contest… but [Mrs.] Lim told me to," Lee said. 
"We thank [Mrs.] Lim for giving us this opportunity," Chang added.  
Lim, the Korean teacher at Hoover, was ecstatic about the awards the trio won. 
"Ashley, Joyce, and Yunji, despite all the challenges and hardships you all persisted… You all work so hard and deserve this scholarship! I'm so proud of you all," Lim said.
During a less historically significant year, the Korean education center would have its award ceremony in person around the first week of October. They will now have an online ceremony on October 8th.