NOELLE MOVIE REVIEW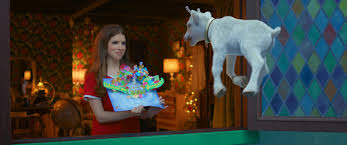 NOELLE MOVIE REVIEW
You better watch out. You better not cry. You better not pout. I'm telling you why. Noelle is coming to DisneyPlus.
Once set for a theatrical debut, "Noelle" is Disney's first original film from the Walt Disney Studios for the service. The Christmas fantasy film is a family fun adventure that pulls a twist on the classic Christmas mythology. It begs the question: Who is Santa Claus? And what is Christmas really about?
Writer-director Marc Lawrence, best known for his work on "Music and Lyrics" and "Miss Congeniality," brings the North Pole to life in a delightful way only to have it undercut later by sloppy story and character development.
His intricate and pleasing ideas along with an original premise contains TV-like qualities and too many subplots that truly make the film a hard one-time watch which makes it perfect for a streaming platform.
After Kris Kringle, the North Pole must bestow the mantle onto another Santa Claus, his son Nick. After Nick's failure to get adequate training, his sister, Noelle advises him to take a weekend getaway, only to realize that it might have jeopardized their entire Christmas season.
The adventure continues as Noelle is on the search for Nick in the real world in hopes to restore the Christmas holiday.
It is then where the story falls apart.
With noticeable CGI and VFX mess-ups and hard-to-believe scenarios, the actors do their best to bring realism and joy to the film.
Anna Kendrick (Noelle) who plays Noelle tries her hardest to bring light-heartedness to the film, but unfortunately her role is seen as a not-so-smart-girl.
Comedians Bill Hader and Billy Eichner do not disappoint with their comedic performances, but like Noelle, they have terrible character development.
The comedy and clever play on words in "Noelle" is possibly the only thing keeping the film in the nice side for now, thanks to Lawrence.
When deciding what to watch this holiday season with the family on DisneyPlus, it wouldn't hurt to rewatch other Disney Christmas classics before you click on "Noelle."
RATING-
3/5
Director- Marc Lawrence
Cast- Anna Kendrick, Bill Hader, Billy Eichner, Shirley MacLaine
Sebastian Guzman