The return of the Music Path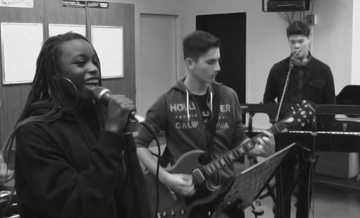 A program that has changed lives is coming back to Hoover. 
The Music Path has been around since the 2000s and is recently back in business.  Mitch Zelezny and his partner Robby Kriegar have given students at Hoover High School the opportunity to grow and learn through their love for music.
As someone who grew up with music around him, Zelezny was the man for the job. His upbringing was another reason for his musicality. His grandfather was a professional musician and his two older brothers played the guitar. 
He explained how one of his brothers wanted an electric organ for his band so he convinced Mitch to learn how to play the oregan so his parents could buy one for him. 
"The First song I played was Light My Fire by Robby Krieger, who is my partner," Zelezny .
Zelezny and Krieger, the original guitarist of the band the Doors, came together through their passion for music to create The Music Path. 
"We kind of hit it off," said Zelezny. 
Students, and soon alumni will be able to come together as a band to show off their talents. Whether you can sing or play, this program will allow you to show what you got.
A 2022 alumni, Madalyene Sallakian shared her experience in music path and said, "working with our friends to create music we all enjoyed felt ureal, like we were actually a part of something meaningful. Bonding over music together created friendships that I never would have thought would work."
"I was fortunate enough to have an ASB that put on a battle of the bands, so I thought that if i could do that for upcoming students, that would be cool," Zelezny said.
"A lot of the students that first came in were shy and they left as rockstars," he said.
With being given the opportunity to socialize and be around people with similar interests, The Music Path tends to give students the confidence that they will carry with them for the rest of their lives.
Zelezny takes pride in his achievements through The Music Path program, even through the hardships caused by COVID. They explored their options of opening the program online but it never came to be until the excitement of students gave that extra push to bring back this program. 
Zelezny was asked to describe his program to us and the first words that came to me were opportunity, community, and collaboration.